Time is always at a premium for SLPs.  But you still need to find ways to stay connected to your profession so you can continue to personally grow and learn in your career.
Podcasts provide the perfect vehicle to help you do just that.  Small doses of valuable information that you can listen to just about anywhere are perfect for busy SLPs on the go.
To help you get started, I've assembled a list of the best SLP-themed podcasts I've discovered in the past several months.
I think you'll find them to be a valuable source for your personal and professional life.
[Note: All information is current as of July 2020.  The following podcasts are living and dynamic sources of information, so be sure to check back with the ones that interest you for the host's latest and greatest offerings.]
The Swallow Your Pride Podcast Hosted by Theresa Richard
What It's About
Buffalo-based Theresa Richard delves into the topics and issues that speech-language pathologists face when working with patients who have swallowing disorders.
She focuses on the latest evidence-based treatment strategies, creating a community of dysphagia clinicians looking for valuable insights and information.
"Our goal is to allow you to swallow your pride and be open and willing to try the latest in evidence-based treatment approaches by learning from experts and researchers in our field to create the best outcomes for our patients who need it most," says Richard.
Richard interviews clinicians and researchers who are leaders making a significant impact on their colleagues and patients. The exchange of information allows clinicians to apply research to provide the best possible treatment for their patients with dysphagia.
Recent Topics and Guests
Episode 144 – Christie Miller MS, MHA, MAG, CCC-SLP – SLPs in Leadership & Management Roles
Have you ever thought about taking the next step in your career and applying for a management role? If so, this episode is for YOU! Christie explains why many SLPs are natural born leaders, and how we can take those skills and apply them to excel in managerial positions.
Episode 140 – Michelle Graham MS, CCC-SLP – COVID Real Talk: Unique Challenges & the 'New Normal'
Are you tired of talking about COVID yet? Trust me, I get it. We've covered all the major topics from PPE, FEES, and even SLP finances in times of COVID. One thing we haven't covered yet is how to actually FEED our patients! We're getting real with NYC-based SLP, Michelle Graham.
Episode 128 – Peter Belafsky, MD, PhD – Reflux, Dysphagia, and the Role of the SLP
Have you ever wondered what the difference is between LPR and GERD? What about the treatment options for reflux? On that note, what IS the role of the SLP in these situations?  Dr. Peter Belafsky and I dive into all of these topics and more.
About Theresa Richard
Theresa Richard is a Board-Certified Specialist in Swallowing and Swallowing Disorders.  She is also the owner and founder of Mobile Dysphagia Diagnostics.
She completed Advanced FEES training under Dr. Susan Langmore and SASS Swallowing Services. Richard has also been a visiting guest lecturer on the topic of FEES at the University at Buffalo, Buffalo State College, Edinboro University, and Buffalo Hearing and Speech Center.
Theresa is also a member of ASHA Special Interest Group 13 (Swallowing and Swallowing Disorders), the Dysphagia Research Society, former President of the Nevada Speech-Language Hearing Association, and 3-time ASHA ACE Award recipient for continuing education.
Where to Listen
You can see a complete archive of Theresa's podcasts and links to listening here.
You can also subscribe to the Swallow Your Pride podcasts on:  Apple Podcasts, Android,  Google Podcasts, Stitcher, Spotify, and RSS
Episodes
Theresa has recorded 145 episodes that each run between 40 to 70 minutes.
Some additional recent podcast topics have included:
Airway Protection: Dysphagia, Dystussia & Tangible Treatment Tools
SLP Finances- Planning, Saving, & Getting by in a Pandemic
Building a Successful Exercise Program (That Patients Adhere To!)
Important Considerations for the Development of a Head and Neck Cancer Program
The Many Roles of an SLP – From ICU to Home
Private Practice Success Stories Hosted by Jena Castro-Casbon

What It's About
Jena Castro-Casbon, MS CCC-SLP is part of a group of private practitioners who have taken client care into their own hands.
This group of skilled clinicians takes pride in providing high-quality care to clients and their families.  Part of this mission includes fighting against productivity requirements, administrative red tape and unnecessary restrictions.
Since launching in the first part of April 2018, the podcast has explored the motivations of why practitioners started their own private practices and the benefits of taking control of their professional and personal lives.
It explores balance through helping others, but by also practicing self-care.  The podcast also takes a collaborative approach in trying to help all independent private practice owners succeed.
Recent Episodes and Guests
"Just Jump In" and Other Advice After 19 Years of Practice
Ruth Bass, MS, CCC-SLP started her career as a speech-language pathologist later in life. After working for another company, she decided to branch out on her own. Ruth started her pediatric private practice, Island Therapies, with the intention of remaining small on purpose.
The discussion centers around going at your own pace and doing what you want as a private practice owner. Also covered are some of the best marketing strategies she's uncovered over the years that have led to client referrals and how she makes the most out of referrals.
5 Years and 50 Contractors: Luba's Story
Luba Patlakh Kaplun is a speech-language pathologist in the Philadelphia area who has built her private practice from zero to 50 contractors in just 5 years. In this episode, she shared how she's built her private practice and how she plans to continue growing during the pandemic.
Jena and Luba discuss how she got into this career after leaving behind broadcast journalism, how she transitioned her practice to teletherapy in just two days and why you have to be persistent while you build your practice. Luba shares the importance of making progressive steps to get to your goals and her advice for other private practice owners.
The Go Getter: 0 to Full in 6 Months
Hana Eichele is a highly driven owner of a new private practice. She transitioned to private practice from working in the schools and in clinics, where she found less freedom and flexibility than she desired.
Jena and Hana discuss her many sources of inspiration to start and continue her private practice and how she arranged a smooth transition between her previous position to seeing her own clients.  The pair also chat about how Hana plans to diversify by drawing upon her other talents.
About Jena Castro-Casbon
Jena Castron-Casbon is an SLP, consultant and mom.
Over the past 10+ years, she has taught over 5,000 speech-language pathologists how to start and grow successful private practices, so they can help more people and make more money.
To combat burn out and fatigue from long hours, decreased respect and unfair salaries, Jena has realized that private practice is the best way to control your professional and personal life.
She helps SLPs design private practices around their lives so they can finally have more time with their families, more control over the therapy provided to clients, and the respect and income that comes from making the transition to a private practice.
Where to Listen
You can view and link to a complete list of Private Practice Success Stories here.
Jena offers a How To Listen page as well.
Episodes
Jena has recorded more than 100 episodes that run anywhere from 25 to 40 minutes.
Some additional recent podcast topics have included:
Private Practice Director, Professor, Author AND Mom
Feel the Fear and Do It Anyway
Building A Practice with School Contracts
How this Momtrepreneur Creates Flexibility for Her Family… and Her Clients with Roshonda Epps, CCC-SLP
"Private Practice is The Vehicle to Get You Where You Want to Go"
Talking with Tech – Hosted by Rachel Madel & Chris Bugaj

What It's About
Augmentative and Alternative Communication (AAC) experts Rachel Madel and Chris Bugaj dive into a lively discussions about all things AAC.
Talking with Tech episodes touch on practical resources, clinical guidelines and relevant research to help clinicians better utilize technology for children with complex communication needs.
Each week, Rachel and Chris interview industry thought-leaders, clinicians, parents, researchers and app developers to keep listeners on the pulse of the ed tech scene all with one goal: better support communication through the use of technology.
This podcast has been cited as one of the Top 10 Education Tech podcasts on iTunes and episodes have been downloaded more than 300,000 times.  It also boasts of listeners in 54 countries.
The highly rated podcast has garnered a 4.9 out of 5 stars based on 149 reviews.
Recent Episodes and Guests
Gemma White: Fostering a Growth Mindset With Core Words
Rachel interviews Gemma White, an SLP who owns a private practice specializing in AAC and feeding support. Gemma and Rachel discuss a "growth mindset" and why mindset is important for everyone, including people with complex communication needs.
Before the interview, Rachel and Chris play a game where Rachel decides on which words she would use to communicate with fictional "veggie" creatures. Then, Rachel and Chris discuss resources for learning about state license reciprocity and how Chris teaches growth mindset to his kids.
Erik Raj: Apps That Make Learning Language Fun
Rachel interviews Erik Raj, a Speech-Language Pathologist and app developer. about using apps to make language development more motivating and fun. Rachel and Erik discuss picture-manipulation apps to get students laughing, telling stories with the "my story" app, making passive screen time more active, teaching students to comment and not just request, integrating parents into therapy with the superherofx app, and more.
Rachel and Chris discuss their presentations on AAC in the Cloud: Chris's presentation on robots and coding for core language, and Rachel's presentation with Lauren Enders on attention-grabbing tools.
Brittyn Coleman: How Nutrition Can Affect People with Autism
Rachel interviews Brittyn Coleman, a pediatric dietitian who specializes in supporting children with autism and ADHD.
She talks with Rachel about the difference between the different types of food reactions, when biomedical testing may be used to evaluate food sensitivity, the different reasons why some foods may be avoided by picky eaters, and more.
About Rachel Madel and Chris Bugaj
Rachel Madel M.A.CCC-SLP is a board-certified pediatric speech-language pathologist in Los Angeles specializing in the evaluation and treatment of children with various developmental delays including autism, down syndrome, childhood apraxia of speech (CAS) and other developmental disorders. She currently owns a private practice in Greater Los Angeles, as a speech therapist providing therapy services to children from birth to 18 years old.
She holds a Certificate of Clinical Competence in speech-language pathology from the American Speech-Language-Hearing Association (ASHA) and is currently licensed to practice speech pathology in the state of California and Pennsylvania. She graduated with honors from Temple University with a bachelor's degree in journalism and a master's degree in speech-language and hearing.
Rachel also frequently utilizes alternative and augmentative communication (AAC) systems including the Picture Exchange Communication System (PECS), functional sign language, and various speech-generating devices. These technologies are utilized as both a primary means for a child to communicate basic wants and needs but also secondarily as a tool with a broader application for teaching a variety of language skills.
Christopher R. Bugaj, MA CCC‐SLP is a founding member the Assistive Technology Team for Loudoun County Public Schools. Chris hosts The A.T.TIPSCAST, a multi‐award winning podcast featuring strategies to design educational experiences.
He is the co‐author of The Practical (and Fun) Guide to Assistive Technology in Public Schools published by the International Society on Technology in Education (ISTE).  Chris has designed and instructed online courses for ISTE on the topics of Assistive Technology and Universal Design for Learning.
Chris is also the author of ATEval2Go, an app for iPad that helps professionals in education perform technology assessments for students. He also co‐produces and co‐authors the popular Night Light Stories podcast which features original stories for children of all ages.
In addition, he has presented over 250 live or digital sessions at local, regional, state, national and international events, including TEDx.
Where to Listen
You can see a complete archive of the Talking With Tech podcasts and links to listening here.
Episodes
Rachel and Chris have recorded 136 episodes that run between 40 to 70 minutes.
Some additional recent topics include:
Improving Hearing with the Audio Cardio App
Teaching with Tech: Double Time Docs
AAC in the Cloud: AAC & Telepractice
Using Robots & Coding to Teach Core Words and Support Peer Collaboration
Action Planning for Anti-Racism and AAC
The SLP Now Podcast Hosted by Marisha Mets

What It's About
This podcast is a weekly, go-to resource for practical speech-language pathology tips.  Marisha Mets, a school-based SLP turned research nerd interviews expert guests to answer a wide range of SLP related questions.
​Each episode is worth .1 ASHA CEUs upon completion of the PodCourse through SpeechTherapyPD.com.
Some courses are less than an hour long and include a hands-on video demonstration within the PodCourse at SpeechTherapyPD.com.
New episodes are live and interactive every Wednesday evening at 5 pm PDT (8 pm EDT)
Recent Episodes and Guests
Episode 54: Tips and Tricks for Working with Bilingual Students – Liliana Diaz, MS, CCC-SLP
Liliana shares strategies to help SLPs navigate assessment and goal writing when working with English language learners. She also shares tips to improve communication with parents who don't speak English.
SLPs will walk away with practical tips and strategies to provide more effective intervention when working with bilingual students.
Episode 51:  Tips and Tricks for Working with Early Learners with Autism – Rosemarie Griffin, MS, CCC-SLP
Marisha shares the three steps she uses when organizing her speech therapy materials with a focus on facilitating more meaningful outcomes for students with autism and streamlining the therapy planning process,
SLPs will walk away with practical tips and strategies to "work smarter" in their speech therapy sessions when working with early learners with autism.
Episode 46: A Crash Course in Scaffolding for SLPs – Lauren Haines, MS, CCC-SLP
Lauren shares how she taught her special education team to effectively use prompts and cues with their students.
She shares practical strategies that empower SLPs to successfully communicate these strategies with his/her team. Lauren also breaks down the hierarchy and provides countless examples so that SLPs and educators can easily implement this with their students.
About Marisha Mets (McGrorty)
Marisha earned her Master's degree in Speech-Language Pathology from the University of Washington and a B.S. in Psychology and Speech-Language Pathology from the University of Arizona.
She has worked as a school-based SLP and shares therapy ideas and resources on her blog, SLP Now.
Marisha also developed a membership for SLPs that includes digital tools and resources to streamline evidence-based therapy.
Where to Listen
You can access The SLP Now catalog here.
Episodes
Marsha has recorded 56 hour-long episodes.
Other recent offerings have included:
How to Foster Parent Engagement in Telepractice – Leanne Sherred, MS, CCC-SLP
A Crash Course in Data Collection for SLPs – Kristin Bowers, MA, CCC-SLP
How to Tackle SLP Burnout – Angie Merced, MA, CCC-SLP
Tips for Success with Literacy-Based Therapy: Older Students – Marisha McGrorty, MS, CCC-SLP
How to Target Early Grammar Goals in Therapy
Speechie Side Up Hosted by Venita Litvack

What It's About
Each episode talks about various career challenges that SLPs face, including students who are about to graduate, entrepreneurial issues, teacher issues, best practices and new developments is therapy designed to inspire and reinvigorate practitioners.
Recent Episodes and Guests
Episode 89: The One About Entrepreneurship with Quintina Briscoe
Quintina is the CEO and founder of a tele-therapeutic pediatric speech and language clinic as well as a newly developed app, both named Pediatric Speech Lab.
She is a Speech-Language graduate of the University of D.C. and Howard University, and has traveled the world for outreach in places such as Dominican Republic and Thailand.
88: The One About Low Tech AAC with Mary Katherine Dally
Venita interviews SLP and AT consultant, Mary Katherine Dally from AAC is a talented and creative SLP who is able to take any common object and turn it into AAC
86: The One About Using Mini Objects in Therapy with Rachelle Paquette
Venita chats with pediatric speech-language pathologist and business owner, Rachelle Paquette. Rachelle is the SLP behind Speech Tree, a company that creates engaging mini object boxes for speech and language therapy.
About Venita Litvack
Florida-based Venita Litvack, M.A., CCC-SLP is an author and AAC specialist who has more than 5 years of experience working with individuals with ASD as a behavioral assistant and speech-language pathologist.
She has delivered several presentations at the national American Speech-Language Hearing Association Convention and has assisted research projects targeting literacy-based interventions.
She is also the co-author of the "Lou Knows What to Do" book series that shows children how a young boy named Lou can be comfortable and successful in potentially challenging situations. Each title is written for students in grades pre-K to 5, including those with differing developmental levels and learning styles, and for students living with autism spectrum disorders.
Where to Listen
You can access Venita's full Speechie Side Up archive here.
Episodes
Venita has recorded 90 episodes that run about 30 minutes each.
Some other recent episodes have included:
The One About Keeping Kids Engaged in Teletherapy with Stacey Pfaff
The One About Parent Involvement with Andi Putt
The One About Providing Therapy To Children Abroad
The One About Student Loans With Brooke Tierney
The One About Working with Older Students with Kristin Bowers
SLPs Wine and Cheese Hosted by Deborah Brooks and Maria Kotsonis

What It's About
Exactly as the title suggests, this podcase is about two New York City speech pathologists who give practical speech therapy tips and tricks while enjoying wine and cheese.
Recent Episodes and Guests
Episode 94: Gender Affirmation Voice Ft. Kristie Knickerbocker
Deborah and Maria talk about an ASHA course titled Transgender Voice and Beyond: Voice and Communication Training for Gender Expression. Gender affirmation refers to an interpersonal, interactive process whereby a person receives social recognition and support for their gender identity and expression.
Kristie Knickerbocker, MS, CCC-SLP, is a speech-language pathologist and singing voice specialist in Fort Worth, Texas. She rehabilitates voice and swallowing at her private practice, a tempo Voice Center, and lectures on voice science nationally.
She is part of the Professional Development Committee for ASHA Special Interest Group 3, Voice and Upper Airway Disorders, and a member of the National Association of Teachers of Singing, and the Pan-American Vocology Association.
Episode 91: Talking with an #SLPBoss
Maria interviews Dr. Michele Desimone who holds a clinical doctoral degree in speech-language pathology.
She is the founder and clinical director at The Sensory Studio, a pediatric center for speech and occupational therapy. Dr. DeSimone specializes in disorders affecting pediatric development and provides educational mentorship to many local clinical providers.
Episode 84: Mental Health ft. PTSD SLP
Maria interviews Rachel Archambault about her experience with a traumatic event.
Rachel is passionate about mental health and the importance of proper training for SLPs.
About Deborah Brooks and Maria Kotsonis
Deborah Brooks, M.A. CCC-SLP, TSSLD, provides speech therapy to individuals of all ages and levels of need throughout New York City. From early intervention to skilled nursing, she covers it all. Deborah is the author and illustrator of the speech therapy coloring book series, Color in Speech.
She is an adjunct professor at St. John's University in Queens. Deborah also works at a special needs elementary school in Brooklyn and supervises clinicians pursuing licensure in the field of SLP.
Maria Kotsonis, M.A. CCC-SLP is a Speech-Language Pathologist at NYC Department of Education.
Where to Listen
You can find the archive of the SLPs Wine and Cheese's Podcast series here.
Episodes
Deborah and Maria have recorded 95 episodes that run 40-60 minutes long.  Some additional recent subjects include:
It's HOW you say it ft. Corinne Vargas
Intrinsic Motivation Ft. Jessie Ginsburg
Early Intervention Ft. Lia Kurtin of Speech and Language at Home
Music in Speech Therapy Ft. Stephen Kneece
Dyslexia
The Untethered Podcast Hosted by Hallie Bulkin

What It's About
Based in Bethsda, Maryland, Hallie Bulkin's podcast focuses on the latest research and clinical evidence in the Myo, TOTs, Airway space. Produced with both providers and parents in mind, episodes include interviews with experts, personal stories from parents, and Q&A from listeners.
Recent Episodes and Guests
Episode 60: Use Your Clinical Judgment With Dawn Moore ClinScD., CCC-SLP. COM®
Hallie talks with Dawn Moore about the importance of all professionals using a standardized system like Dr. Zaghi and Dr. Yoon's TRMR which is based on research data. They also discuss tongue tie vs. tongue space and the overlap in symptoms.
The discussion also includes the importance of beginning myofunctional therapy before a tethered oral tissue release and continuing myofunctional therapy after.
Episode 58: PLOT The TOT With Autumn R. Henning, MS, CCC-SLP, COM, IBCLC
Hallie talks with Dr. Ann Bynum and Autumn R. Henning about their new course, Plot the TOT.  They also discuss how they found a need to educate others on the importance of collaboration amongst disciplines in order to provide the best care to their patients.
Episode 57: Cultural Sensitivity: Our Role As SLP's With Dominique Kennedy, MS, CCC
Hallie talks with Dominique Kennedy on cultural sensitivity in the Speech Language pathology field.
They discuss the importance of inclusion and diversity as well as working with culturally and linguistically diverse individuals and families.
About Hallie Bulkin
Hallie Bulkin is a Certified Orofacial Myologist, Feeding Specialist and Speech Therapist.  She is the founder of Little Sprout Therapy & Metro Myo.
Where to Listen
For a complete list of The Untethered Podcast podcasts, go here.
Episodes
The Untethered Podcast has 61 episodes that range from 40 to 70 minutes in length.  Some other recent shows have included:
Everyone Has the Right to Better Airway With Howard Hindin, DDS
Dysphagia in the Schools – The Dysphagia Outreach Project
Teletherapy is REAL Therapy, Not SURVIVAL Therapy
Nasal Breathing Will Save Your Life
There's No Such Thing as a Mild Tongue Tie
ASHA Voices
What It's About
The ASHA Voices podcast series is a broad discussion about how people communicate and how that communication changes people's lives.
It is an interdisciplinary look at the speech-language-hearing professions, bringing the world of CSD professionals to listeners. It features panel discussions, one-on-one interviews, and opportunities for member interaction.
Discussions can range from a talk with a neuroscientist who is exploring the brain's role in how we hear and communicate, to a pair of SLPs who share stories about the success they found using person-centered treatment techniques.
Recent Episodes and Guests
George Castle Talks Mentoring and Race in Speech-Language Pathology
SLP and NYU faculty member George Castle joins ASHA Voices for a conversation about what mentorships mean in his life and career, and he shares memories of Kenyatta Rivers, who taught him to live his life helping others advance in their careers while pulling himself up at the same time. He calls this the one-hand-up and one-hand-down philosophy.
At a time when much of the country is reflecting on race, the discussion also encompasses the role mentorships can play in creating diversity in the field of speech-language pathology.
So You Want to Reopen? An Audiologist Shares How He Did It
In this episode of ASHA Voices, two audiologists share their unexpected experiences and circumstances–one reopening their practice during COVID-19 and the other with a new cochlear implant.
Audiologist Ryan Kennard, discusses his weighing of curbside, telepractice, and in-clinic options as he made plans to reopen the practice he directs, the San Luis Obispo Hearing Center. He shares how he adjusted his services to reopen safely.
Carrie Spangler was diagnosed with hearing loss at age four, and, after over 20 years working as an educational audiologist, she decided to receive a cochlear implant. The Ohio-based educational audiologist shares her cochlear implant journey and what she's learned from the experience.
Author Ijeoma Oluo on Race, Communication, and Microaggressions
Oluo is the author of the best-selling book "So You Want to Talk About Race."
At the ASHA Convention, she joined ASHA Voices host J.D. Gray and 2018 ASHA President Elise Davis-McFarland for a discussion after Oluo gave the ASHA Office of Multicultural Affairs' 50th Anniversary Address.
Where to Listen
Episodes of ASHA Voices posts every other Thursday. To hear each episode as soon as it's released, follow the ASHA Voices page on Leader Live or subscribe to the program with Apple Podcasts, Spotify, or Google Play.
Episodes
There are 25 episodes of ASHA Voices.  New episodes are released every two weeks.  Some additional recent offerings include:
Language and Identity: Shifting Away from a Deficit Perspective on African American English
What If Permanent Hearing Loss Could Be Reversed?
Lessons Learned from Stuttering Struggles and Beatboxing Sounds
Shifting the Focus to What's Possible for People with Dementia
Talking About Hearing Loss … and a Solution to the Cocktail Party Problem?
My Podcast Appearances
I'm also active as a podcaster both as a guest of some of these shows, and as a host of my own podcast, SLP Money.
If you'd like to hear my insights as a guest talking about SLPs and financial planning issues, check out my appearances on these episodes:
Theresa Richard, Swallow Your Pride, Episode 136:  Planning, Saving & Getting by in a Pandemic.
Venita Litvack, Speechie Side Up, Episode 78:  The One About Money & Job Benefits
Deborah Brooks & Maria Kotsonis, SLPs Wine and Cheese Podcast, Episode 72:  Financial Planning
SLP Money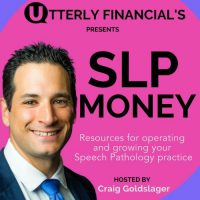 Inspired by all the incredible podcasts above, I launched my own podcast earlier in 2020.  The goal of SLP Money is to provide resources and information that financially empower SLPs to make better, more informed decisions about their money.
Each episode, I chat with SLPs and industry consultants who can help grow your career and take your private practice to the next level.
A couple of recent episodes have included "5 Issues Every Practice Owner Must Solve" and "Enduring Through a Pandemic," among others.
You can download episodes or subscribe to SLP Money here.
As an extra added bonus for my listeners, you can also set up a 30-minute introductory consultation to learn more about working with Utterly Financial and how we serve SLPs and private practice owners all over the country.
Final Thoughts:  Why You Should Listen To SLP-Focused Podcasts
Speech-language pathologists are an extremely busy and diverse group of people.  Heavy caseloads, business demands, and trying to maintain a balance between a personal and professional life are challenging.
That's why the need for efficiency and innovation are critical to survive and succeed.
It's not always possible to take three or four days to run off to a conference, or take a day for local networking and continued education.  Even researching articles can be a time-consuming and unrewarding task.
But unless you're an SLP who is slammed 24/7, you can and should be taking time to explore new therapy ideas and practice strategies in smaller bite-sized chunks when you can.
That makes podcasts a perfect and convenient way to supplement your knowledge base and recharge your batteries.  You can listen to them on the go, in your car, at home, or anytime you have a few minutes to spare.
The on-demand attractiveness of podcasts can mold them to your schedule, so that you can take control and stay on top of the latest trends and developments on your terms.